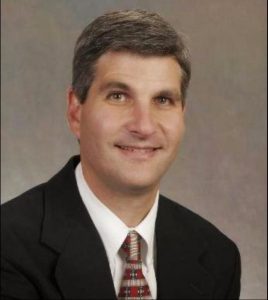 Dr. Joseph Sokol is a fellowship-trained Glaucoma Sub-specialist and Eye Surgeon. He is Board Certified in Ophthalmology and was re certified in 2005.He is a Fellow of the American Academy of Ophthalmology, an elected member of the American Glaucoma Society, is on the voluntary faculty of the Yale Eye Center, and is the Chief of Ophthalmology and the President of the Medical Executive Committee at Griffin Hospital in Derby, CT. He is on the Clinical Advisory Board for Compulink Business Systems one of the two most widely utilized medical records systems for eye care professionals.
Dr. Sokol attended Wesleyan University in Middletown, Connecticut and The Mount Sinai School of Medicine in New York City. He completed his ophthalmology residency training at Northwestern University in Chicago and his glaucoma fellowship training at The New York Eye and Ear Infirmary in Manhattan. From1995 until 2006 he was the sole glaucoma specialist, and from 1999 until he left in 2006 The Surgeon Director of The Ambulatory Surgery Center, at OptiCare Eye Health Centers based in Waterbury CT.
On November 13, 2006 Dr. Sokol opened his own private practice in Shelton, Connecticut. Dr. Sokol's aim, in going out on his own, was to develop a high tech-high touch eye care practice. In other words, to offer the most technologically advanced eye care for glaucoma and cataracts as one might expect in a larger or academic setting but instead with the personal touch found in a solo practice. He welcomes new general ophthalmology patients or consultations and has special interests in glaucoma, glaucoma surgery, complex cataract surgery including premium and presbyopia correcting intra-ocular lenses, repair of dislocated intra ocular lenses and electronic medical records.